I boarded the Silver Service Palmetto Amtrak train in Tampa around 5:30 Tuesday night. I was surprised at how easy it was to board the train. I picked a seat in coach, put my suitcase above in the luggage area and made myself comfortable. The seats were cushy and roomy with an outlet on the window-side. Just as I settled in my ticket was scanned and I was informed that I was in the wrong area. I had upgraded to a roomette and didn't realize I could ride in my room for the entire trip. Sleeper car isn't just for sleeping.
My Amtrak room attendant, Preston, was extremely personable and helpful. He knew he had his hands full since I didn't even know how to board the train correctly! With the roomette your meals are included. Your first alcoholic beverage is free and non-alcoholic beverages are available for free anytime. Preston took my dinner order, gave me a quick orientation and promised to give me further instructions as I needed them.
I forgot to grab my phone charger from my car so I kept my phone off. Thankfully I had my laptop and the wifi was fantastic. I enjoyed a pleasant evening watching Netflix. It was a great way to start of the vacation.
As promised, Preston came back to help me understand how the bunk bed works and a few other tips. I actually called it a day around 8:30 pm. The bunkbed wasn't horrible but next time I might try the seats since they convert to a bed instead. It was easy to get up and down from the bunk so that was a plus!
I had breakfast in the dining car. Nothing spectacular since they were already out of french toast at 7 am. But fruit loops and a blueberry muffin and a couple cups of coffee did the trick.
Preston checked in on me, and the rest of the passengers, often. He was hilarious, which is my kind of person. Most importantly, he made sure to make sure I knew when it was my stop to get off the train!
All in all, I absolutely loved the train. I will definitely be planning more Amtrak adventures in the future. I think even the boys would enjoy it, which is saying A LOT!
Tips:
Bid for the roomette. Stay at the minimum or slightly higher bid price. At least for now because the sleeper cars were practically empty.
Dress for comfort. I wore leggings and a t-shirt and brought a sweatshirt and socks to wear inside. It was the perfect combination!
Be extra kind to the staff. The expectations for them are high. The pay is decent but they have to bring their own food for their entire trip, which could be Miami to New York roundtrip. They are still dealing with supply chain and other challenges related to COVID. There's pressure to book the trains but management is not providing the staff or supplies to make sure the level of service will ensure repeat business.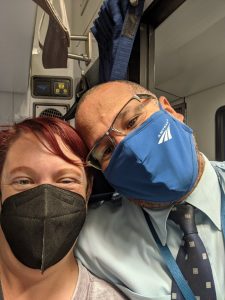 Note: This photo was taken right before I got off in Richmond. I think I look pretty good for 18 hours on a train!